January 31, 2013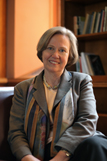 The Advantage Testing Foundation is delighted to announce that Dr. Shirley Tilghman, President of Princeton University, has joined our Board of Trustees. President Tilghman's deep experience will inform and enhance the AT Foundation's ongoing mission to create powerful educational opportunities for talented, hard-working students of modest means.
Since 2001, Dr. Tilghman has championed Princeton University's commitment to making high-quality education accessible to undergraduates of all socioeconomic backgrounds. Under her leadership, Princeton became the first university in the nation to replace all financial aid loans with need-based grants, thereby substantially increasing its ranks of enrolled low-income students and relieving the debt burden of graduates. A longtime Trustee of Leadership Enterprise for a Diverse America (LEDA), Dr. Tilghman enlisted Princeton University to partner with the Advantage Testing Foundation in providing extensive institutional and academic resources to LEDA's Aspects of Leadership Summer Institute.
Dr. Tilghman's accomplishments as a university president are matched by her groundbreaking scholarship. She is a world-class molecular biologist with a specific focus on genomic imprinting; her pioneering scientific research has earned her such prestigious accolades as the L'Oreal-UNESCO Award for Women in Science and the Genetics Society of America Medal. Dr. Tilghman is also widely recognized for advancing the careers of women in the sciences and for promoting science education for students of all backgrounds across all academic disciplines.
Along with Martha Minow, Dean of Harvard Law School, and John Sexton, President of NYU, President Tilghman will serve as a Vice President of the AT Foundation Board. Arun Alagappan (President), Tom Hill (Treasurer), and Lauren Frank also serve on the Board of Trustees. The Advantage Testing Foundation looks forward to working with Dr. Tilghman on behalf of the outstanding young women and men who benefit from our programs and bolster our nation's increasingly diverse corps of future leaders.